Dr. Stewart Laster loves the transformation a great smile brings to a person! He has made it his life's passion to help others love their smiles. He truly enjoys creating a lasting impression on the patients' he serves. In addition, he believes in providing the best care and patient experience at Laster Orthodontics.
A Passion for Creating Amazing Smiles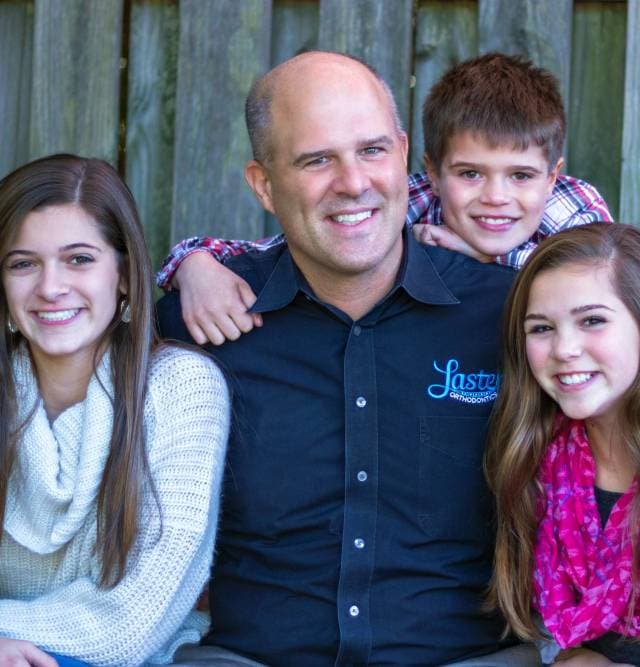 Dr. Laster grew up in Norfolk, Virginia, and went to The College of William and Mary for his undergraduate degree in biology. Then, he attended UNC-Chapel Hill for dental school and orthodontic residency and finished in 2001 and 2004.  Then, immediately joined this practice and have been practicing orthodontics in the Raleigh area for over 17 years.  Dr. Laster's thesis on three-dimensional imaging won the national research award and paved the way for incorporating unique and specialized technologies in his practice.
It was his early work in three-dimension imaging that gave Dr. Laster the expertise to develop the Laster Perfect Smiles (LPS) clear aligner system, and start the first and only clear aligner lab in the Raleigh area.  LPS is a cost-effective clear aligner system (like Invisalign) that in our practice delivers amazing smiles for our patients using plastic as opposed to braces.  Dr. Laster's real passion is providing patients with top-notch service, and seeing the amazing smiles that we create together.
Dr. Laster met his bride, Dr. Christine Laster while attending dental school at UNC-Chapel Hill when they both volunteered to do a mission trip to the Nuestros Pequenos Hermanos Orphanage in Mexico.  They have been married for over 20 years, since 2001.  Dr. Laster has three children Cate (UNC-Chapel Hill) Caroline (North Raleigh Christian Academy) and Will (Thales Academy). Dr. Laster enjoys time with his family and dogs, traveling, reading, training for marathons, and coaching and attending youth sports.  Dr. Laster also is passionate about learning about new technologies and techniques and using them to serve his patients better, always striving to create even better smiles and patient experiences.
Professional And Civic Organizations
Dr. Laster understands the value of community and is a proud member and partner with a number of high-profile professional and civic organizations in the Triangle.
Wake County Dental Society
American Dental Association
American Association of Orthodontists
American Association of Orthodontists Foundation — Vanguard Member
North Carolina Association of Orthodontists
Southern Association of Orthodontists
Mission to the World — Africa
Redeemer Presbyterian Church
Arthur H Weurhmann Prize
UNC- AAO Award
Seattle Study Club
3D Aligner Study Club
Aligner Intensive Fellowship
3D printing study club